Dear Deacon John,

I was in Charlotte, North Carolina last week and have amazing news from that city. But first, there is even better news
Already in this 40 Days for Life campaign, we've had reports of …
… 321 babies that have been saved from abortion! Praise God for His mercy and love!
There are two reports today. One shows the power of a strong, consistent pro-life witness. The other shows the agony a woman goes through when it's clear the "choice" to have an abortion is not her own.
Charlotte, North Carolina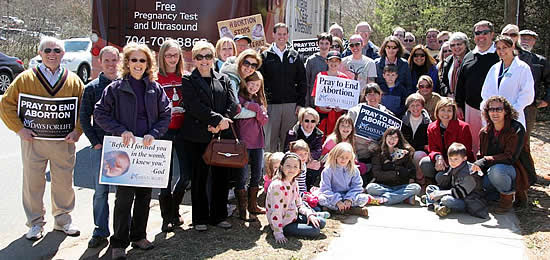 John in Charlotte sent a quick note as a follow-up to my recent stop there: "46 saves! Praise God!"
It helps that a local pregnancy center parks its mobile ultrasound RV outside the abortion center – an impossible-to-ignore, positive resource that has encouraged so many women reject abortion.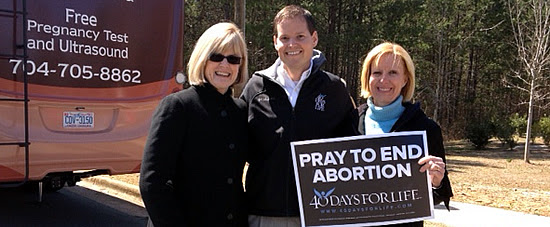 I had a great visit with the Charlotte team, including Katherine and Andrea, the two women who first brought 40 Days for Life to the area … even before it became a national campaign (their story of courage and success is featured in the 40 Days for Life book).

The abortion center knows the combination of prayer and a determined, life-affirming witness on the sidewalk is hurting business. So their security guard is outside regularly, yelling at volunteers and turning up loud rap music on his car's sound system in an attempt to silence the prayers.
I saw this for myself! But it isn't working. Since March 5, it has failed on at least 46 occasions!

Brisbane, Australia


As Carrie, her friend Laura and their children prayed at the 40 Days for Life vigil in Brisbane, a drama played out before their eyes outside the Dr. Marie abortion facility.
"A young woman and her boyfriend were walking in and out of the front door for 10 minutes or so," Carrie said. "The man kept trying to comfort the woman and hold her hand – and also lead her into the clinic."
It certainly looked like the woman had no interest in going inside. So they turned away and sat in the garden for a while. Carrie and Laura smiled at them, prayed quietly, and kept watch with the children.
After a time, they walked towards the door again. The man walked up the steps, but the woman stopped, threw her bags down and started crying. She kept looking at the vigil participants' faces … and the children. "We were just being there," Carrie said.
They approached the door one more time and the woman still refused to go in again. This time, they left and did not return. The volunteers prayed that this woman would continue to be brave and refuse to abort her child.
"It was profound to be there, keeping watch," Carrie said. "It is a very sad place to be in the world, but we were there — being light in a dark place.


Today's devotional is from Rev. Ben Sheldon, president emeritus of Presbyterians for Life.
Day 27 intention
We pray for the gift of openness to children.
Scripture
God created man in His own image, in the image of God He created him, male and female He created them.
And God said to them, "Be fruitful and multiply, and fill the earth and subdue it, and have dominion over the fish of the sea and over the birds of the air and over every living thing that moves upon the earth."
— Genesis 1:27-28
Reflection by Rev. Ben Sheldon
God's intention is that we multiply and fill the earth. One of the most perni-cious lies that sociologists have foisted off on the public is that the earth is be-coming overpopulated.
What kind of a sadistic god would cre-ate the earth and human creatures on it, only to have them literally repro-duce themselves into oblivion?
The God and Father of our Lord Jesus Christ, who is our divine Creator, has commanded us to multiply and fill the earth and far from letting the popula-tion get out of control, He has, in fact given his human creatures a dominical role over all the lesser creatures.
The "birth control" movement, which had its beginnings with Margaret Sang-er in the early years of the last century, has led, in many parts of the world, to a birthrate that is drastically below the normal replacement rate.
God's Word assures us that children are a blessing, that they are a reward of faithfully trusting and serving God and that they are the crown of their parents' old age.
The spread of the contraception men-tality that has so permeated our cul-ture is, undoubtedly, a factor in the ready acceptance of abortion. God's commandment to multiply and fill the earth has never been withdrawn. May
He help us to accept the gift of children and give him thanks for every baby who is born into the world.
Prayer
Father of mercy and grace, we thank you for the gift of our children. Grant that every fiber of our being may re-joice when a new baby, our own or any else's, is born into the world. Help us to welcome them as we would welcome you, for whenever a new baby is conceived, another life to bear your image and another voice to praise and worship you, is beginning. In Christ's name we pray. Amen.
Printable devotional
To download today's devotional as a formatted, printable PDF to share:
http://40daysforlife.com/docs/spring2014day27print.pdf 
 

SHAWN CARNEY

Campaign Director

40 Days for Life
PS: Have you witnessed any lives saved from abortion at the 40 Days for Life vigil in your community? If you have, please do share your story by responding to today's blog entry at:
http://40daysforlife.com/blog/?p=5681